Hartland Public Library Child Accompaniment Policy
during the Covid-19 Pandemic

The Library Board of Trustees updated the Child Accompaniment Policy at the beginning of the pandemic and with school starting soon, we're reposting that policy here. Children 13 and under will need to be accompanied by a parent or caregiver while inside the library building. The full policy is located here.
---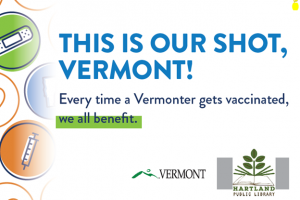 ____________________________________________________________________________________________
The Hartland Public Library will be open regular hours starting July 6, 2021
Welcome back inside!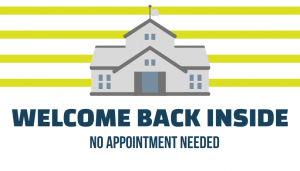 There will be no time limits and no capacity limits. The library is asking everyone over the age of two to wear a mask or face covering inside the building. We are a full community library, dedicated to every age group, and protective of health and privacy for members and visitors. 
Porchside service will still be available as well.
There is plexiglass installed at the circulation desk for safety during this close interaction. You may also use our new "meescan" self checkout station, or download the "meescan" self checkout app for your phone. 

Thank you for your patience and your willingness to adapt this past year to everchanging instructions and circumstances. We are excited to begin the process of reopening the building and interact in person with our library patrons again!

And finally, thank you for reading all of this!  If you have any questions at all please feel free to ask any staff person. 
The Library Board of Trustees and staff have developed a phased reopening plan for the library. This plan takes into account CDC guidelines, as well as guidance from the Vermont Department of Health and the Vermont Agency of Commerce and Community Development. Link to the Hartland Public Library Phased Re-Opening Plan. 
**UPDATE  – The library building will open regular hours starting July 6, 2021 as we move to the next phase in the reopening plan. 
For more information about library services please visit our Porchside Lending page. 
And visit Quick Links on the home page.
____________________________________________________________________________
If you have questions about COVID-19 (the coronavirus) please call 211.
Information about COVID-19 – https://explaincovid.org/
COVID-19 is confusing. This site contains facts about the virus. How does it spread? How is it treated? Who does it affect most? Unbiased information to help you make good decisions from a team of researchers and students at Brown, MIT, Harvard, Mass General, and elsewhere.
If you or someone you know is in crisis or needs emotional support, help is available 24/7:
Scroll down for a list of more links and resources – this list will be updated regularly.
____________________________________________________________________________
Links to:
Downloadable Audio Books and Ebooks
Kanopy Streaming Video (for kids too!)
Apply for a Library Card Online
Connect to our Calendar for online events and programs. Storytime and other kids programming with Amy are offered on Facebook LIVE. 
Thank you to everyone for your support and patience during this time as we all learn new ways of living during this challenging time.
The links below are from the Vermont Department of Health, the CDC, and more.
---

List of all Governor Phil Scott's Executive Orders related to COVID-19
---
Vermont Department of Health
About Coronavirus
Communities and Workplaces
Stay informed about COVID-19 check the webpage frequently for current guidance. Click "See the latest update" for the latest information (in red)
twitter feed
Facebook page
---
Vermont Agency of Commerce and Community Development (ACCD)
Coronavirus Resource Center for Individuals, Businesses, and Communities in VT
---
Center for Disease Control (CDC)
Coronavirus Disease 2019 (COVID -19)
Guidelines for Cleaning for Community Non-Healthcare Organizations
---
World Health Organization – WHO – Advice for the Public
Medline Plus – US National Library of Medicine – Coronavirus Infections
National Association of School Psychologists
Talking to Children About COVID-19
Psych Central – How to Cope With Coronavirus Fears
SAMSHA – Coping With Stress During Infectious Disease Outbreaks
---
Addiction and Substance Abuse Help in VT – https://vthelplink.org/
WIC  Women, Infant's, and Children's Supplemental Nutrition Program – https://www.healthvermont.gov/family/wic
3 SquaresVT (also knows as Snap,Food Stamps, and EBT) – https://www.vtfoodbank.org/nurture-people/3squaresvt 
Hunger Free VT – info on food access in Vermont  
Hartland Food Shelf

Aging in Hartland – http://www.aginginhartland.org/
Hartland Mutual Aid –  resources and how to give and receive help in Hartland
Mutual Aid Resources in Southern VT  – the second section of this document is for LGBTQ and QTPOC folks
Peace and Justice Center of VT – mutual aid resources in Vermont
---
VT HELPLINK – Info and referrals to substance use, prevention, treatment, and recovery. The VT Dept of Health launched this clearinghouse for VTers to receive free, confidential, personalized information/referrals throughout the state. It offers a call center of trained staff/clinicians. Callers can get info, referrals, resources, educational materials on substance abuse for themselves, family/friends, or on behalf of clients. VThelplink.org
---
If you are or someone you know is in crisis
Feeling anxious, confused, overwhelmed or powerless is common during an infectious disease outbreak.
If you or someone you know needs emotional support, call the National Suicide Prevention Lifelineat 1-800-273-8255. Trained helpers are available 24/7. Or text VT to 741741 to talk to someone at the Crisis Text Line.
For more information visit healthvermont.gov/suicide.
___________________________________________________________