The Hartland Public Library introduces meeScan!
Use the free mobile app on your phone to check out items anywhere in the library.
Download the app to your phone.

Open the app while in the Library. Make sure your GPS location is enabled for this purpose.

Tap the Start button

Tap the + button to start checking out books.

Scan the item barcode of each item.  (Align the barcode in the window and hold still. The app will scan the barcode automatically.)

Tap the Finish button.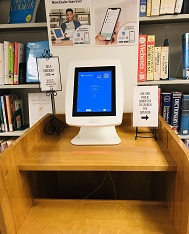 The Library also has a Self-Checkout Kiosk located to the right of the stairway where you can check out your items as well!
To checkout items using the meeScan kiosk:
Tap the start button on the meeScan kiosk.

Scan your library car.

Scan the barcode of each item you wish to checkout. (Align the barcode with the red laser bar under the kiosk desktop.)

Tap the finish button.

The self-checkout kiosk will email your due date receipt to you.