Sing, talk, read, write, & play! These 5 activities build early literacy every day!
When do children start learning a language?
How can I prepare my child for kindergarten?
Will this help my child in school?
Get the answers and everyday activities that prepare your child from birth to age 5 for success in school.
---
1,000 Books Before Kindergarten Program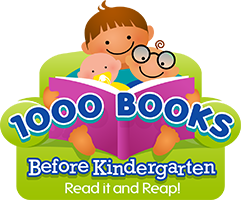 The concept is simple, the rewards are priceless. Read a book (any book) to your newborn, infant, and/or toddler. The goal is to have read 1,000 books (yes you can repeat books) before your precious one starts kindergarten. Does it sound hard? Not really if you think about it. If you read just 1 book a night, you will have read about 365 books in a year. That is 730 books in two years and 1,095 books in three years. If you consider that most children start kindergarten at around 5 years of age, you have more time than you think (so get started).
The key is perseverance. Make it exciting. When your child reaches a milestone, give him/her a small reward (stickers, backpacks, books). Get started today – ask for your reading log at the Circulation Desk! For every completed log (100 books) returned to the library, children will receive a sticker and a book!
---
Red Clover Award Nominees 2020-2021
The Red Clover Book Award is designed for children in kindergarten through fourth grade. Each year thousands of Vermont school children read the 10 nominated picture books and vote for their favorite in the spring. The award has been handed out annually since 1997.
Voting to begin soon – contact your school for more information. If you are a homeschooler, let me know and I'll help you vote for your favorite!
Early Literacy Activity Calendar – Daily literacy-building activities to share with your child.