Sing, talk, read, write, & play! These 5 activities build early literacy every day!
When do children start learning a language?
How can I prepare my child for kindergarten?
Will this help my child in school?
Get the answers and everyday activities that prepare your child from birth to age 5 for success in school.
---
1,000 Books Before Kindergarten Program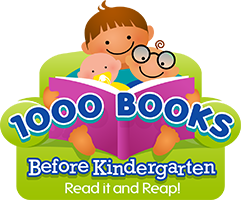 The concept is simple, the rewards are priceless. Read a book (any book) to your newborn, infant, and/or toddler. The goal is to have read 1,000 books (yes you can repeat books) before your precious one starts kindergarten. Does it sound hard? Not really if you think about it. If you read just 1 book a night, you will have read about 365 books in a year. That is 730 books in two years and 1,095 books in three years. If you consider that most children start kindergarten at around 5 years of age, you have more time than you think (so get started).
The key is perseverance. Make it exciting. When your child reaches a milestone, give him/her a small reward (stickers, backpacks, books). Get started today – ask for your reading log at the Circulation Desk! For every completed log (100 books) returned to the library, children will receive a sticker and a book!
_____________________________________________________________________________________
EARLY LITERACY ACTIVITIES CALENDAR – Daily literacy-building activities to share with your child!
__________________________________________________________________

BEANSTACK WINTER READING CHALLENGE!
Just in time for the New Year: The Winter Reading Challenge: Read for a Better World (All Ages) is available for pre-registration now on the Vermont libraries Beanstack page at https://vermont.beanstack.org/. The challenge starts January 1 and ends January 31. The challenge is available for free to all Vermonters.
Readers of all ages are encouraged to read for at least 20 minutes a day and log their minutes using the Beanstack website or the mobile app. Participants can read books of their choosing, log minutes, participate in simple activities, and earn digital badges. Participants are encouraged to explore diversity, empathy, and action through literature by choosing books and stories from an array of diverse authors and topics.
There are many places readers can find lists of diverse books. One good place to start is We Need Diverse Books, which has compiled a list of sites that offer recommendations for diverse titles. There are also many fantastic diverse titles included in the Vermont youth book awards current and past nominee lists.
As a reminder, anyone who has created a Beanstack account in the past will not need to create a new account and will just need to register for the challenge. If you do not have an account you will need to create one before you are able to register. There are instructions on the Beanstack landing page for logging-in and creating accounts.
---
Red Clover Award Nominees 2021-2022
The Red Clover Book Award is designed for children in kindergarten through fourth grade. Each year thousands of Vermont school children read the 10 nominated picture books and vote for their favorite in the spring. The award has been handed out annually since 1997.
Voting usually happens in March – contact your school for more information. If you are a homeschooler, let me know and I'll help you vote for your favorite!